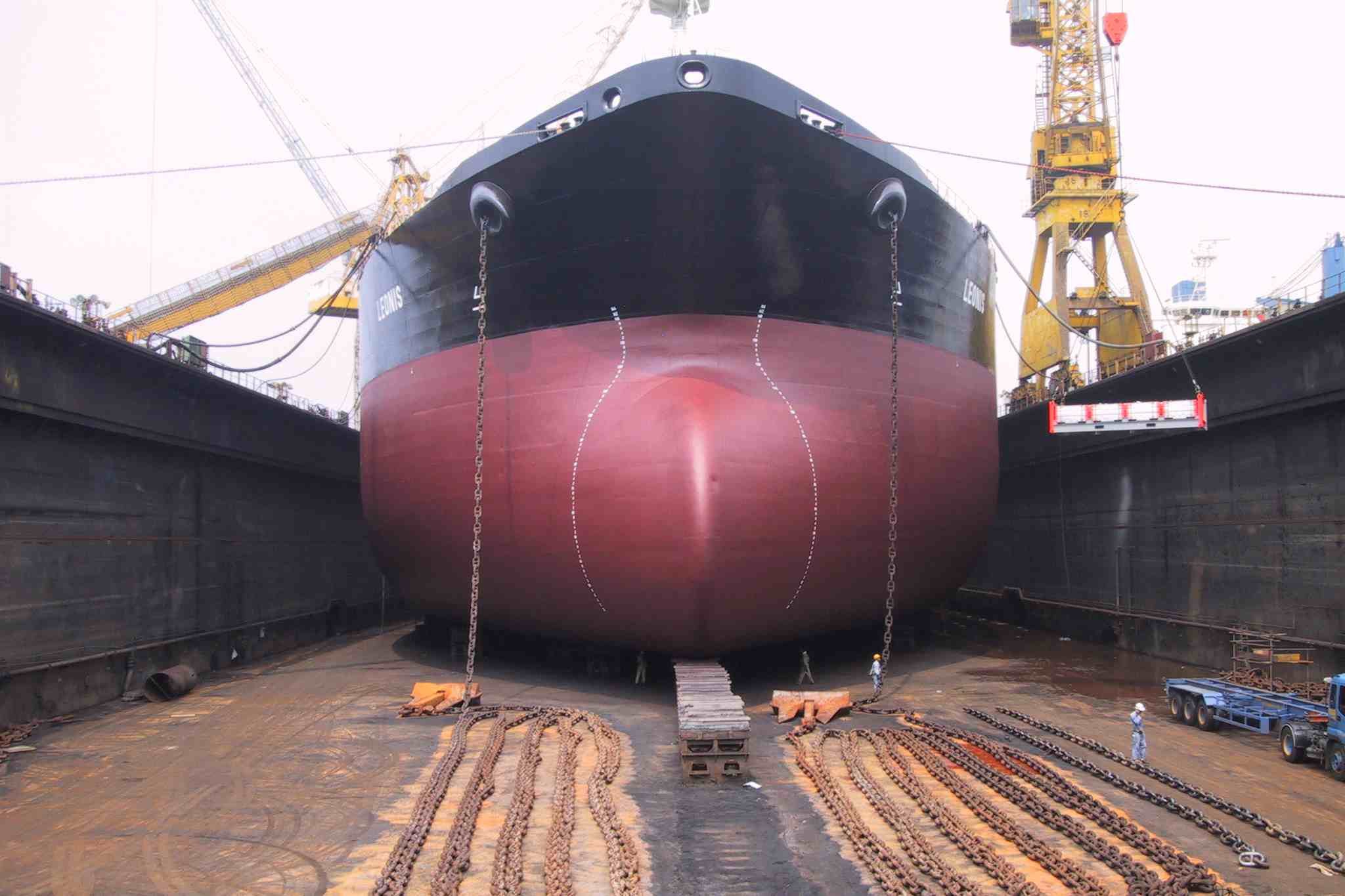 Periodic surveys and inspections of ships are carried out to ensure the safety and seaworthiness of vessels. Not all of them needs docking.
As we all know: Within the first five years of the ships lifetime, she will not need a docking operation to carry out the bottom survey.
In such a case you need to do an afloat bottom survey by certified diver. This must be done within the first 36 month during the 5 year period.
Although you will need to get off chart for some service or repair, it will be shorter than if you have to go to dry-dock.
Dry-dock or moored?
Bottom surveys by a classification society is a vital part of ship's trading capacity. Thus, for a vessel to continue trading, various periodical surveys and certifications by classification society are mandatory to ensure its continual compliance with International regulations and endorsement of the same.
Multiple certificates require annual endorsement after the class surveyor verifies that the conditions, functioning and operational and maintenance requirements of the vessel are complied with.
For oversight of the rules and standards of classification you can keep up to date with these articles:
Additional reading: Economy in planning your yard stay
Regularly check
Annual servicing and inspection of equipment systems are performed by various institutions such as accredited laboratory, service company, maker- or manufacturer trained personnel, shore-based maintenance provider, class approved service applier, and service personnel authorized by the flag.
Often a classification society has a matrix or a survey checklist which specifies checks, maintenance and inspection records for several shipboard equipment and appliances.
The maintenance or inspection routines are as specified by makers or weekly, monthly, six monthly, annual or five-yearly surveys depending upon the requirements laid down in conventions or circulars issued by IMO.
The Main classification together with bottom survey are the toughest of these in which a thorough inspection and testing as per the guidelines of classification society are conducted.
Read also: Which factors should determine your choise of shipyard and dry-dock?
Checklist before docking
Before dry-docking or survey and off chart-time you need to do important preparations. Marineengineeringonline.com has made this checklist to assist you:
Prepare Repair Specifications in advance for budgeting and inviting quotations
Pipe Lines
Structural steel renewal, for which plate thickness gauging may be required.
Overhauling of Mooring Equipment.
Special servicing requirements
Overhauling and testing of Cargo Gear (cargo pumps if the vessel is a tanker)
Prepare Spare Parts
Plan and carry out Hold/tank cleaning/gas freeing before arrival
Check and confirm availability of special tools, instruments, and manuals on board.
Confirm availability of drawings like Docking Plan, GA, etc. on board.
Drone-tech
When considering going to dock or not, you should be aware of the interesting new procedure using drones for inspections of internal spaces of a ship.
Drones could also be used for inspection of external structures as masts or deck crane jibs. Read more about the use of the drone-technology at Remontowa Shipyard here.
During commercial operation, you will carry out periodical maintanance to make sure your vessel is seaworthy.
If there is damage to propellers or leakage, you will have to send down divers immediately. You can´t wait for docking or off chart-time.
Click to download:
Image: Wikimedia Commons (Flickr user Gabuchan).